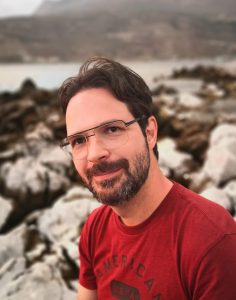 Robert Luh
Security researcher and hobbyist writer
Born: 1983 in Vienna, Austria
Contact: searingstar@gmail.com
Social Media:
---
🇺🇸 Robert is an Austrian security researcher and freelance writer. He got his PhD from De Montfort University Leicester after graduating from St. Pölten University of Applied Sciences where he studied IT and information security. He is currently employed as lecturer at the university and conducts research for the University of Vienna.
"Collision Domain" is his second book – the first one, "Searing Star", is a self-published science-fiction novel revolving around the topic of modern-day xenophobia.
---
🇩🇪 Robert Luh ist Researcher an der Universität Wien und Dozent an der Fachhochschule St. Pölten.
Neben der Computer-Sicherheit gilt seine große Leidenschaft den imaginären Welten: Seit 2011 ist er als selbstpublizierender Hobby-Schriftsteller tätig. ,Verity' ist Roberts dritter, aber erster deutschsprachig verfasster Roman.
Sein Erstlingswerk, das Science-Fiction Buch ,Searing Star', behandelt die weitreichenden Konsequenzen von aggressiver Fremdenangst in einer düsteren Vision des 22. Jahrhunderts.
,Collision Domain – Six Ways to Kill by Hacking' erzählt die technisch authentische Geschichte einer Jagd nach einem gefährlichen Cyberkriminellen, der eine ganze Großstadt in Atem hält.